Time to Prepare Your Home for Fall Weather!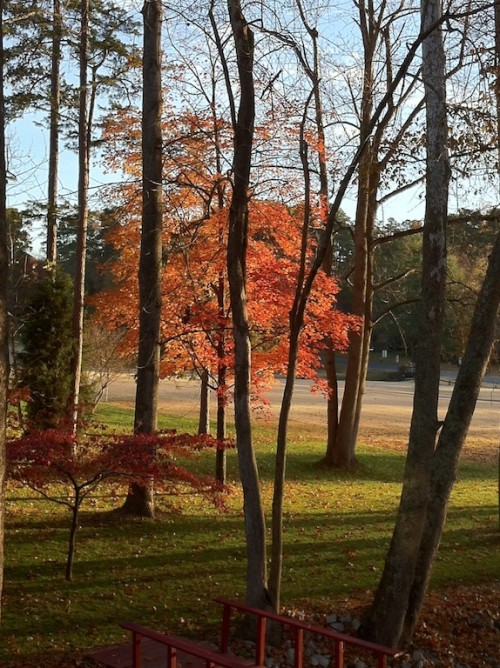 It's a new month and there's a hint of a chill in the air. Have you noticed that the days are already getting a bit shorter?
Time to prepare your home for the colder months ahead. Best to prepare, inside and out, now while the weather's still good!
So, what to do?
Yard – Aerate, fertilize and seed your lawn so, come spring, you'll have a fresh crop of beautiful grass.
Bedding – Find, wash, and have ready your flannel sheets, blankets, and comforters. If you leave your windows open at night, you may already need them!
Gutters – Time to start cleaning out leaves. Here in North Carolina, that's about a two month process with all the beautiful fall leaves that will float down from now until late November.
Roof – While cleaning the gutters, inspect the roof for any signs of wear or damage that can be taken care of before bad weather hits.
Fireplace – Can't wait to start using mine. This is the perfect time to have your chimney inspected and cleaned so it's ready to use when you are.
Heating system – Have it serviced now before cold weather strikes. Don't wait until cold weather hits to find out your system isn't functioning properly. Besides, that's when all the HVAC repair people will be backed up with "emergency" calls. Don't be one of those calls!
Water heater – Drain it and remove all debris. If you haven't done it yet, wrap yours with a water heater blanket to insure that it runs less to keep your water hot.
Check for drafts – around all windows and doors. Now's the time to add weather stripping insulation to keep your home warm and cozy this winter.
Remove window air conditioners – Service, clean, and store them so they're ready when you need them again next year.
Storm windows – If you have removable screens, clean, store, and replace them with your storm windows.
Order firewood – I just offered a huge stack of cut firewood from one of our renovations for free on Craigslist. Craigslist is a great place to find free firewood, but this is the time when everyone begins collecting so start early!
Insulation – Check your attic and basements or crawl space for places where you may need to add insulation. Insulation falls and settles over time so be sure yours is filled to the brim!
Spruce up your home – Preparing for a new season is always a great time to clean, clear out and give away. As you and your family prepare to settle inside during the colder months, make sure your home is comfy and cozy. Put away spring accessories and bring out comfy throws.
What can you add to the list? What do you do this time of year to prepare for the cold months?